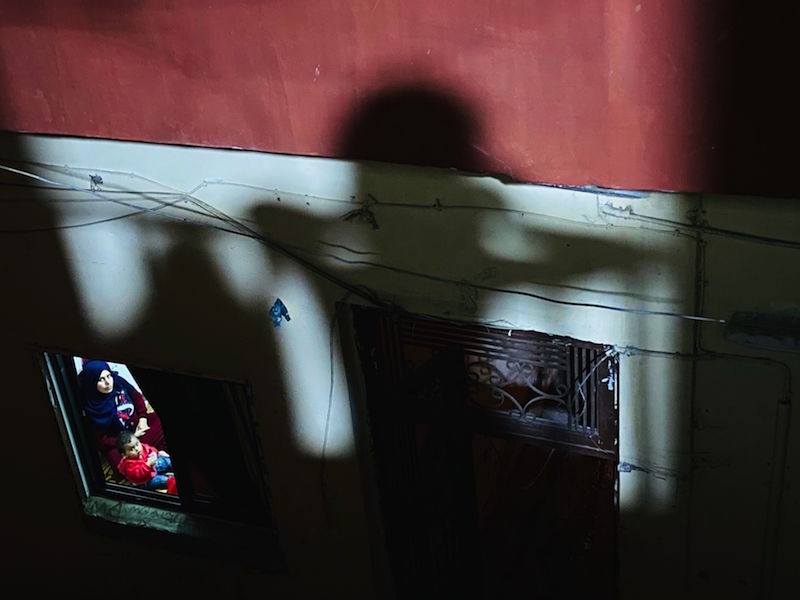 Data management Jana Haidar
Analysis and writing Nadine Bekdache, Jana Haidar, Rim Trad, Abir Saksouk
Rent is a primary way to access housing in the Lebanese cities which house diverse social classes. The percentage of tenants in Beirut reaches 49.5% of its total population.According to a survey conducted by the United Nations Development Program in 2008 Nonetheless, the available figures are limited to rental contracts signed under registered legal contracts, thus excluding conventional arrangements that are not registered in the municipalities or are agreed upon without written contracts.
As a matter of fact, tenants and residents of major cities live in constant worry about the future of their housing. They are in crisis as they continuously suffer from housing conditions which are unsuitable for decent living. They suffer in the search for affordable housing at a proximity to their social and economic networks. They strive to maintain their housing secured.
Today, hundreds of thousands of refugees, migrant workers and families face an increasing risk of losing their homes. Furthermore, they are part of the groups most affected economically by the repercussions of the successive public mobilization resolutions, which eliminated day-work opportunities, and by the consequences of the economic and subsistence crisis.
As part of the efforts made to address this housing dilemma and face the threat of eviction – and in view of the catastrophic consequences of COVID-19 pandemic – the Housing Monitor has partnered with the Anti-Racism Movement (ARM). The aim is to document and follow up on cases of threats of eviction of refugees, migrant workers and families and to provide them with the necessary legal and social support to protect their rights. In the context of this report, we will present a study on 145 cases that the Housing Monitor received through the hotline of ARM during April, May and June, 2020 and followed upon.
Based on this documentation and follow-up process conducted by the Housing Monitor regarding the aforementioned 145 cases, this report reveals the aggravation of inequalities and violations to the right to housing, witnessed daily by the most marginalized groups.
A Sample of reported cases
A sample of 145 migrants and refugees of different nationalities reported cases of eviction threats, taking the lead were 51 Sudanese tenants, followed by 34 Ethiopians and 29 Syrians, in addition to other nationalities, including Bangladeshi, Kenyan, Nigerian, Sri Lankan and others.
This sample is divided almost evenly between 69 tenants of residential rooms that are rented directly from landlords within a split housing unit, and 66 others sharing the rent of entire units. Naturally, families are more inclined to rent apartments or independent rooms with facilities (kitchen and bathroom), while individuals tend to rent rooms within one apartment, in which other tenants occupy the other rooms.
It is noteworthy that more than 95% of these leases had no written deed allowing tenants to occupy the leased property, nor contract or receipt pertaining to the rental payment. Such enormous percentage indicates how legally vulnerable migrants and refugees are, in houses which lack minimal health and structural conditions, while they are unable to protect themselves from the threat of eviction.
Regarding hosing sustainability, the average rental period was 12 months, while in other cases it reached 15 to 16 years, with the oldest lease agreement dating back to 2004. However, such long years did not compel landlords to be more understanding or patient. Tenants complained in many cases about this situation by claiming, "We've been paying the rent regularly over the past years, but we're unable to do that anymore." This is a clear indication of the depth of the economic crisis is and its impact on all segments of society, albeit to varying degrees. As for the shorter rental periods, they were as short as one month and were reported by new tenants who were either forced to vacate their old residences or vacated with their consent due to their inability to pay rent. This resulted in some of them moving from one place of residence to the next, within short periods of time. In some cases, this short period may be due to the tenant leaving their sponsor's home, due to exposure to violence or other circumstances. In other cases, it was due to being forced to vacate by eviction and thus, they became homeless, sleeping in street or at the doorsteps of embassy buildings.
From this sample, 135 people (93%) are either workers without residency visas or with expired work permits, which discourages them for instance, from resorting to the police if landlords abuse them. On the other hand, a group of tenants complained that in many cases, landlords would withhold their legal documents to pressure them to pay the rent or to ensure that they did not leave before rental payment.Of these people, 76 (52%) possess a reference number at the United Nations High Commissioner for Refugees (UNHCR), either as refugees or as asylum seekers. The other 67 cases have been referred to the UNHCR for follow-up. Not all cases received a response. Others received a response either that help is not feasible or that their files are under consideration. Moreover, the Commissioner followed up on some cases that received financial aid for rent. The exact number of cases that have received assistance from the UNHCR is unavailable due to the UNHCR's restrictions on the disclosure of data. This is where the issue with the sponsorship system, which undermines the position of migrant workers at various levels, stems from. The relevant law requires the sponsor to provide housing for female foreign workers, or obliges him to host her in his house, based on the standard employment contract for female domestic workers. However, there actually exists a different reality, whereby migrant workers form a significant portion of the tenancy market. It should also be noted that the applicable sponsorship system exacerbates the facets of imbalance between the migrant workers as tenants on the one hand, and the landlords generally Lebanese on the other hand. At other times, migrant/refugee workers are confronted with the building's caretaker, who is also a migrant or refugee, and has instructions from the landlord to collect the rent under the threat of being deprived of his salary. 
We have also received multiple complaints from a number of foreign workers who were subjected to violence by landlords. They were detained in the house and/or threatened at gunpoint. Landlords even hired thugs to beat them up, in order to force them to vacate.
The aforementioned cases indicate a skewed balance of power, and an absence of a deterrent to curb the tyranny of the landlords or a legal authority that protects this segment of the city's population.
Geographical Distribution and its Indication concerning Affordable Housing
We received various complaints on ARM hotline through the social networks within which the association usually operates, which includes families and workers from Arab and foreign refugee or migrant communities, covering in particular and on a large-scale Beirut city and its suburbs. This was reflected in the geographical scope of the 145 cases, most of which were concentrated within the Beirut administrative region and its suburbs. Taking this into consideration, conclusions can be drawn about the geographical distribution of the sample of reported cases, regarding the situation of the workers and migrants' housing in the city.In fact, no studies were conducted nor there were maps produced about the whereabouts of migrant workers in the city, at least not on a comprehensive scale.
According to the data available about the places of residence of the reported cases (see Map 1), the areas where affordable housing is available for workers and migrants are divided into 3 categories:
First, informal areas with the largest percentage of those reporting threats of eviction (39%). In Lebanon, any solutions to housing problems, which concern the groups most in need of state support, have been dissolved bit by bit. The absence of a national policy of affordable land has contributed to widespread informal areas in all Lebanese cities. These are areas that low-income groups have resorted to over decades in order to build houses, rent lands or acquire public or private properties that do not belong to them according to official records. Accordingly, today, more than 50% of the Lebanese population resides in informal areas, including the different categories of migrant workers.
Second, the neighborhoods located within municipal Beirut, where about 20% of the reported cases. While Beirut's inner neighborhoods have been subjected to fierce real estate speculation over the past decades, and buildings have been demolished and a large proportion of their residents have been displacedRelated references: Public Works Studio, Ras Beirut: Narratives About Housing in the City, 2018. Mona Fawaz and Abir El Zaatari, Property Tax: No More Vacancy Exemptions, 2020., the old buildings scattered throughout Beirut's neighborhoods still allow for various housing arrangements. In fact, the high vacancy rate in these old buildings (due to evictions or displacements during the war) has led to the phenomenon of dividing apartments into several rooms. In general, homeowners prefer to convert their old properties into rooms that are rented to marginalized social groups, in light of the often-inappropriate housing conditions and the lack of basic services and necessary maintenance work. This remains the homeowners' preferred option, especially since dividing apartments into rooms allows them to double their profits, even if it is by exploiting a vulnerable segment of people driven by an urgent need to find housing in cities close to the workplace.For more on this topic, read the article Ras al-Nabaa in the Time of Coronavirus.
On the other hand, what the diversity old buildings offer is specifically the result of its demographics, through the rent cap (commonly called 'old tenants'). Additionally, a large portion of the old buildings is inhabited by owners who built them, along with their inheritors, in the aim of living in apartments and renting them out at the same time. In other words, these buildings are exist 'outside' the real estate speculation market, and thus allow the possibility of affordable rental.
Third, the low-income neighborhoods on the outskirts of the city, such as Burj Hammoud, Dora, and others, the location of about 17% of the reported cases' place of residence. These neighborhoods are not subject to real estate speculation; their buildings are difficult to demolish due to their status as historical monuments associated with Armenian refugees or the related masterplans. Consequently, these areas offer a good access to housing with affordable rents.
As for the remaining percentage – about 21% – their place of residence is sporadically dispersed in areas outside the city, where rent is low compared to places closer to economic activity in Beirut.
During our visits to foreign tenants living in informal and working-class neighborhoods, we noted the support of residents of these neighborhoods and the friendly bonds connecting them, the willingness of shops and stores to give credit, and the inclusion of various segments of society. These areas attract a wide variety of residents of different nationalities, due to the relationship migrants were able to build with these neighborhoods where children can safely play in the streets. Foreigners can also become involved in the community, unlike other neighborhoods where non-Lebanese individuals are excluded from social life.
The Residential Status Versus Rental Amount: Excessive Exploitation
The type of rental relationship and the conditions for safe and decent housing indicate cases of violation of the right to housing that were monitored through incoming reports. The respondents' rent allowances ranged between a minimum of LBP 112,000, i.e. $ 75 per the official exchange rate, and LBP 975,000, i.e. $ 650. As for the average rental rate, it reached LBP 300,000, i.e. $ 200.These numbers date back 6 months ago, and we expect them to be higher now. Some tenants have reported cases where the landlord required them to pay rent in dollars. However, with the dollar crisis worsening, this is no longer common recently. Some landlords requested that the rent be collected at an exchange rate higher than the official rate (such as calculating LBP 3,000 to the dollar). This is especially the case as tenancy contracts often stipulate that rent is to be paid in US dollars.
Dividing apartments into several residential rooms is another phenomenon, offering a housing solution in often new, tight, and crowded spaces, without any controls on the rental allowance and housing conditions. More than half of the reported cases were confined to one bedroom, a kitchen and a bathroom shared with others who could add up to 4 tenants or more. It seems that apartment owners are meeting the huge demand for housing of a large segment of migrant workers, by signing similar arrangements, while the city's percentage of available housing supply which remains vacant without any accountability reaches 50%.AUB Urban Lab, Beirut: A City for Sale? 2020 Nonetheless, there exists an asymmetrical relationship between landlords and tenants, where there are no controls on the rental relationship, housing conditions, and how to manage private property (such as the absence of a tax system that limits vacancy) in favor of public interest. This results in an obsession with multiplying profits predominating over standards of safe and decent housing.
In addition to space shortage and overcrowding, we also surveyed the housing situation. We found that about 19% of tenants consider their place of residence to be "good," 19% consider it "acceptable," and 33% live in homes with harmful defects such as mold, humidity and leakage. The remaining portions were distributed among residential places that have poor services and structural problems, lack sunlight, where rodents and insects abound, and foul sewage smell suffocates tenants due to devising rooms near the building's sanitation facilities, leading to long-term health problems.
In general, the rental market is a primary source of income for a wide range of landlords. Based on the data from the reported cases' sample, we find that some of the homeowners are real estate firms or investors (6 cases). However, the majority of homeowners are old owners (59 cases). They were distributed among those with multiple sources of income (20 cases), and others whose primary source of income was rent (27 cases).
The minimum wage in Lebanon is around $ 400 (based on the official exchange rate of LBP 1,500). The average income of the overwhelming majority of employees and workers does not exceed what some landlords earn from rental. Hence, there is a need to impose controls on the rental market, to curb the exploitation of vulnerable groups. For instance, in Ashrafieh area, the owner of a building that consists of 4 floors and 8 apartments receives over $ 4,500 a month from about 35 tenants of several apartments, including an apartment rented on old-rent basis and another one inhabited by a single woman. As for the remaining apartments, they are split into rooms that workers and migrant families rent. Others are shared by migrant workers. One apartment is rented 'on an individual basis' to workers in neighboring facilities, where the number of tenants sometimes exceeds 10 people per apartment.
The need to impose controls on the rental market arises. It is precisely because this ability to earn profits from rents has encouraged homeowners to take advantage of the situation, at the expense of the safety and security of tenants. Nevertheless, job opportunities are vanishing from the industrial sector, unemployment is soaring, and a basic social-safety net in terms of healthcare, education and housing is lacking. In addition, the absence of controls 'frees' landlords from the burden of taking the necessary safety measures, such as building maintenance, housing rehabilitation, and providing safety conditions for residents in the event of fires, for instance. In short, in most cases, no percentage of rental payments is allocated to building maintenance and apartment rehabilitation, especially when the owner is not a resident of the same building. Consequently, one out of two tenants suffers from inadequate housing conditions. However, in situations where owners reside in the same building with the tenants (28 cases), they devote more attention and maintenance to the property.
Rents constitute a source of income and profit for homeowners, but they do not provide people with the desired public benefit, which is rental payment in exchange for adequate and stable housing. Housing is not a commodity; it is rather a human right, just like the right to education and healthcare. Henceforth, regulating rent has become an urgent necessity in order to establish and consolidate this right, especially with the changes taking place in major cities in Lebanon.
Evacuation and Related Threats
About 90% of the reports were received by the Housing Monitor following the landlords' request from tenants, kindly or by threatening, to vacate the property after they failed to pay the rent In 15 other cases, the tenants contacted the Housing Monitor out of fear that they would be asked to evacuate. 14 out of 15 were defaulting on payment and were not yet asked to evacuate, and one was still paying the rent, but was forced to pay either in dollars or in Lebanese pounds based on the black-market exchange rate., noting that defaulting was primarily due to tenants losing their jobs or sources of livelihood, as a result to the country's successive crises. It is striking that almost half of the cases (78 cases) showed inability to pay rent even before the first public health mobilization resolution was issued on March 15th. This indicates the extent of the impact of the economic crisis on the deterioration of income levels, preceding public mobilization.
 
Bar Graph: reported cases' Reasons of defaulting
Loss of Job / Income Reduction     Arrested (by Authorities)            Number of Cases
Deportation of Breadwinner    Inability to Work                0, 50, 100
Cutting UNHCR Assistance    Imposing Dollar Payment
A large difference appeared in the defaulting period of the 145 tenants to pay before the landlord asked the tenant to vacate, ranging from half a month of delay to over a year. As for the average default period before reporting, it was 4 months for tenants who have lived in the same dwelling for over 5 years, and just 2 months for the 138 tenants, which is the prevailing period.It is noteworthy that according to the Lebanese Tenancy Law –to which provisions the abovementioned tenants are subject-, the defaulting period before the landlord is entitled to formally request eviction is 3 months, but for 100 of these cases, the default was just 2 months or less when the landlord demanded eviction, compared to 40 cases, in which the default period was at least 3 months.
According to the complaints we received, some landlords resorted to arbitrary practices and the use of eviction and intimidation tools that are inconsistent with the most basic human rights and international treaties signed by Lebanon in this regard. These practices have sometimes amounted to threatening tenants to detain them in the apartment, to physically beat and abuse them, or cutting off water and electricity and have policemen intimidate and scare them.
[table]
In some cases, these practices were preceded by negotiation attempts. Before contacting the Housing Monitor, 35 tenants tried to negotiate with the landlords, requesting a rent reduction or an extension of the deadline for paying the amounts due. Nineteen of them received favorable responses to either extend the payment periods or to reduce the rent. In another case, the tenants of an entire building, all of whom were migrant workers, protested by gathering within the building. The police intervened to disperse them per Coronavirus pandemic prevention measures. In a different case, the tenants of the same apartment negotiated with the owner, who was willing to consider their request. In two additional cases observed in Jnah area, a few residents (neighbors and influential people) mediated with the landlord to allow tenants to return to their home after eviction. In another case, a tenant became homeless for fear of confronting the owner, but the police kicked him out of the street, requesting he stays home.
[ Pie Chart: Negotiation Attempts Between Both Parties Before the intervention of the Housing Monitor ]
[ Pie Chart: Geographical Distribution of Negotiation Attempts ]
[ Bar Chart: Geographical Distribution of the Landlords' Response to Negotiation Attempts ]
[ Bar Chart: Geographical Distribution of the Landlords' Response to Negotiation Attempts ]
Of course, social ties with the surrounding environment are an important factor in facing eviction threats. It was remarkable that at times, the homeowners' neighbors would convince them not to act on their threats of eviction, or their ability in bringing back the tenants to their apartments after eviction attempts. In other cases, however, there is no relationship between the tenants and the neighbors. In some cases, it may not be possible to negotiate, even in the case of close relations with the neighborhood, due to the owner's affiliation with military or security services or local political party bodies.
Thus, despite the importance of social relations, we cannot – in the case of migrant laborers in Lebanon – turn a blind eye to the human rights approach regarding evictions. From a legal aspect, landlords do not comply with the law's provisions of the extension of contractual deadlines, which extends rent payment deadlines. Furthermore, exercising any kind of pressure or intimidation on tenants, which may sometimes amount to the level of insult, contempt, and harm, are considered acts that are punishable by law, potentially by a prison sentence. In addition to that, any nonconsensual eviction duly requires a judicial decision, which was not the case in any of the abovementioned cases.
Summary
Similar to the sponsorship (Kafala) system which enables sponsors to oppress migrants workers and allows the authorities to be complacent about violations of women's rights and inequality with men in terms of responsibilities and duties, instead of giving priority to development  projects, securing nurseries and homes for the elderly in various neighborhoods, the absence of controls in the housing market puts landlords, who suffer from poor living conditions, be it healthcare, education, or retirement, to be in partnership with the authorities in violating rights to housing and destroying the urban environment.
In the case of migrant workers, the results of market-based policies and the absence of controls in the rental market, along with the absence of affordable and adequate housing solutions, are clearly manifested. 
This makes the most socially and legally marginalized groups vulnerable to the most heinous types of exploitation and violence. The absence of controls also has an impact on tenants at large, including the Lebanese: the possibility of splitting apartments into rooms, in order to increase the return on rent, leads to an inflation in rent.
The rental market must be controlled by linking rent value with the wage level. The authorities must provide social housing, in line with principles of social justice, and which facilitates the development of housing schemes that provide decent housing in various neighborhoods of the city at low prices. Tenants must also be protected from rent inflation, to ensure the continuity of their housing. Additionally, tenants without contracts must be protected from practices that threaten their housing. It must be ensured that residency and sponsorship conditions for non-Lebanese are not used as means of intimidation. Moreover, in many apartments and buildings, poor housing conditions resulting from negligence and failure to follow engineering standards, must be addressed. Thus, restoration and the pivotal role of municipalities must both be imposed (10).Article 18 (Section 7) of the Building Law 646/2004: "Homeowners must maintain the cleanliness of the facades of their buildings and other parts thereof, and they must, when necessary, paint, secure, or restore them at their expense."
In light of the crises in which we are living, the authorities must adopt a policy of non-eviction; it must place schemes that support low-income landlords and tenants; and provide alternative and adequate housing for each eviction case.
The state should proceed with implementing these solutions immediately, bearing in mind that they will remain incomplete unless the structural socioeconomic fragility that plagues the Lebanese political economy is addressed. This can only be achieved with the state acting on its role of stimulating a productive economy that secures decent job opportunities, and preserving the rights of female and male workers from different communities. By providing basic services such as healthcare, education and housing, such economy can limit the justification for individual profits. In addition, the state should introduce a fair tax system that curbs real estate speculation, and include progressive taxes on lands located in urban areas, taxes on unbuilt or unused lands, and taxes on built properties that are vacant.